Schoolhouse Crew Review: IXL Math
IXL Math is a name I hear often when my testing clients tell me what they are doing for math in their homeschool. I also hear my tutorial students talk about IXL. With my curiosity piqued, I was really happy to be offered a chance to review this program.
Basically, IXL Math is a web-based practice program for math from K - 8th grade
.
Algebra has been newly added and more upper levels are planned. This is NOT a curriculum, as there is no instruction, per se. IXL Math is a source of practice problems, generated and managed by a computer program. Students access the program through the web; therefore, it is completely portable from computer to computer.
As students practice the program increases the difficulty of problems through a level, provides immediate feedback to the student, and generates a report to both the student and parent. Explanations and solutions to the problems are available when requested only after submitting an answer. These were nicely done with visual cues, definitions and explanatory narrative as required. They didn't exactly work the problem step by step as you might expect. Remember this is not
instruction
. IXL Math assumes the student has been instructed and had some practice outside the program so the explanations are more like memory joggers. (I should note that an auditory prompt may be turned on for the youngest students.) Oh - there are games and rewards.
Ginger is in high school so she wasn't as interested in this program as a younger student might be. Still she agreed to test it for me and thought the algebra review might be helpful in preparing for the upcoming IOWA test. Her use of IXL was really straightforward -- she signed in. She chose an area to work. She worked.
We decided she should practice for about 30 minutes each day or more if there was time. I suggested areas which I thought she needed the most practice and left it up to her to follow the plan. Students may choose from any level -- or the parent may set the ares in which they list. One thing I liked about the IXL program is that it has an option to align with state standards. When your student is subjected to annual testing this feature is helpful to ensure practice on all the objectives that might be covered. Students can go straight to that section and begin their work based on these standards.
Click here to see the topics on all the different grade levels.
Ginger didn't mind doing IXL Math. In fact, she rather enjoyed it - except for the fact that it was math, algebra to be specific. And she had to work problems on paper. And she found a lot of formerly mastered topics that needed review. Hmmm.
Ginger and I both found the platform easy to navigate and friendly to the visual learner among us. I took the initiative to activate Ginger's access and create her personality icon, which I thought was cute. They look like the people on a Wii.
When we used the common log-on, Ginger would choose her identity and I could chose mine. From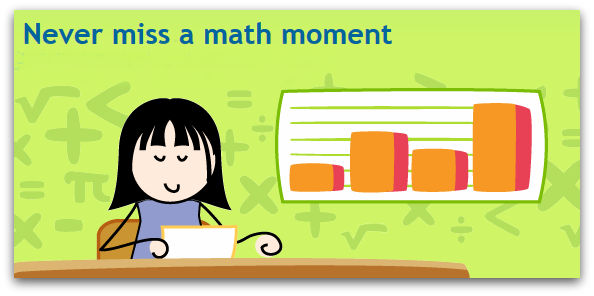 the administrator identity I could look at a huge variety of reports on Ginger's practice data. These included information about how much time she spent, what days she worked, what topics she explored, mastered or needs improvement on. I could even look at the specific problems she worked. These reports (in seemingly infinite variety) could be custom designed and emailed to me each week.
I felt that the design and presentation of the different program components addressed the visual learner's needs well. Students who will be distracted by colors and "busy-ness" on the screen may find it a little overwhelming.
Below are screen shots of some of the practice pages as well as the report.

So what do I really think?
I actually like this program a lot.
IXL Math does what it is designed to do, which is provide a lot of math practice that doesn't require much involvement from the parent (teacher). In the private schools I have worked with, the teacher simply has each student scheduled for a period of the day and she can monitor progress through the reports. Parents can us it the same way to good effect. I believe you will have to be diligent to ensure your students actually go practice every day (or at least regularly), but the reports do help with that.
Regarding the difficulty of material: IXL can be quite challenging.
I spend a lot of time comparing the topics covered in various math curriculum and I feel that several popular curriculum that do not include some vocabulary and topics that students would see in a traditional text and likely will see on an achievement test. IXL Math introduces topics such as geometry, probability, measurement and challenging word problems that may be missing from some homeschool math programs in younger grade levels. IXL Math makes a very nice supplemental program in this regard.
IXL Math has what I consider student centered options. The parents may hide the grade levels for students that may feel sensitive about working below level. The timer can be hidden as well for those who become nervous at the thought of being timed. There are other customizable features I didn't explore.
IXL is reasonably priced for what it does.
For $9.95 month and $79.95 annually (a discount) IXL Math is affordable. There are discounts for other children in the same family. If you subscribe for the year, you may also suspend your membership for a short time.

Y
ou can try IXL Math FREE for a period of time. Check out their website. You have nothing to lose by giving it a try.
You can best see if this will work for your family by giving it a try!
Remember that we reviewed the Algebra level. Grades k - 8 are available as well.
It is true that student success in math is tied to practice. If students will use it regularly, IXL can provide a lot of practice without involving the teacher (a time saver).
All in all, given the age of my student, I'm glad that we have the subscription into the fall because we discovered that Ginger could use some practice in topics. I enjoy that I don't have to think about providing this practice.
As always, you do not need to take my word for it. Please check out the reviews of other crew members at the main Schoolhouse Crew Blog.

Disclaimer: As a member of the Schoolhouse Review Crew, I received a free subscription to the IXL Math website for my student in exchange for reporting our experience with the program. I did not receive any other compensation and all of the opinions are my own. I always try to offer a balanced review that reflects both the positive and negative features.