Over the 19 years I've homeschooled, teaching a foreign language was a necessary evil in our scope and sequence. I've seen and/or tried just about every foreign language program sold to homeschoolers at various different grade levels. We have tried multiple Spanish programs over the years and quite frankly, hated them all! I tell you this so you'll read this review with a critical eye and not be dissuaded by my lack of enthusiasm for any product involving Spanish. Reviewing a foreign language program is not an easy thing in our household.
Actually, in this instance I can honestly say that I am
not
totally
un
enthusiastic.
While Spanish is not a passion in our homeschool, I can fully appreciate a fine product when I see one and Real Homeschool Spanish is a fine curriculum product. If you have Spanish phobia like we do, this product is worth trying.
So here is the bright side:
When I received the download version for
Real Homeschool Spanish
I was enthusiastic that it was written specifically for homeschoolers, including mothers with little or no background in the language. It is also written to use with children of different ages, all at the same time. Your entire family can learn and practice Spanish together.
I also liked the download delivery AND the option of purchasing a hard copy.
The price is right too --
$49 for the download version ($59 if you include the daily lesson guide) and $89 for the hard copy ( $99 with the lesson guide). Included in your curriculum are a book, a lesson book, answer keys and audio files (downloaded) or cds with the hard copy. This quite possibly is the least expensive option for a complete product package that I've seen in this category of curriculum.
The curriculum is organized into units, of which there are 10. Each unit has 33 vocabulary clusters and 15 different "idea" sections of 3 -4 pages each of suggestions to expand and enhance the learning experience. The units involve pretty standard material for an introductory foreign language program. A 175 page activity book provides plenty of pen and paper type practice. This is more than enough material to fill a traditional 33 week school year.
The curriculum teaches with a conversational approach which is rather like an immersion method. You speak and the children reply. The text book has transcriptions of the conversation with the Spanish and English translation side by side . After looking at some other curriculum, I find the visual presentation of the book clear and easy to follow.
Since I don't know Spanish and have no ear for this sort of thing, I appreciated the audio files. The text book clearly indicated when someone like me should be using the audio. The audio themselves were clearly organized and the articulation was clear and slow enough to be useful to me. I did have to try a few times to get the large zip files downloaded and opened. If you find downloads frustrating this might be a minor problem for you as well, but I doubt it should be a deal breaker. If I can figure it out, anyone can.
After introducing and practicing the lesson through the conversational lesson, families continue their language practice with a variety of activities - active being the operative word. Ideas and instructions for games and other active learning ideas make this language program work for the entire family, including activities to try while out doing errands. Many of the activities involve visiting Spanish groceries, restaurants and other scenarios where you will necessarily practice speaking the language and experience the Spanish culture first hand.
Students practice reading and writing the language in the workbook. The workbook was also well organized and varied in the types of practice, though most of the activities were pen and pencil games or puzzles rather then boring fill in the blank worksheets. The purpose of these activities is to provide meaningful practice to the students while freeing up some time for mom.
To round out the program, free cultural links are available on the website.
I should also mention that the author seemed gracious and prompt in answering questions and providing technical support.
Although it is optional to the program, the daily lesson guides (not plans) are important, in my opinion. At first I found them difficult to understand, but once I got used to the format I could clearly see their value to a busy mother who needs the planning done. There did seem to be a good deal of "prep" time -- preparing game boards and gathering material - but the author explained how to minimize the time required in preplanning. As a working mother herself (she teaches college language classes) the author's goal is to free up time for the mother and make implementing the program easy.
I was impressed by the thoroughness of the planning with Real Homeschool Spanish. Honestly, there are so many suggestions, you will have to pick and choose carefully which ones to use in a week. I also believe the background and experience of the author comes through in the layout and attention to detail in explaining how to do the activities. This makes this program easier to implement than many others I've tried over the years. It is probably the ONLY program that actually works for multiple ages at the same time.
For me the disappointment came in the lack of information on how to make this a high school credit. For one thing there is very little of the grammar and translation expected at that level. That is not to say the program is not useful to an older student. Certainly a teen could work through this material quickly and gain a foundation in basic vocabulary before using a more traditional program - or going on a mission trip. I also read that it would be possible to use this program with any other computer based program (for any age) that you currently have. Using it with a more traditional program is probably the only way to expand this curriculum into a full high school credit. However, for a family who wants to introduce their children to Spanish, learn basic vocabulary and sentence structures together or get the younger children working with the teens on their Spanish, this program looks ideal.
Because we are definitely in high school, this program didn't fit our needs. My daughter needs to
finish
her language requirement -- as quickly as possible. She did agree with me about the layout and organization as well as the interesting activities. In her opinion, this would have been a better option than the program I tried with her in elementary school and a great introduction to Spanish before having to dive into formal study for a "credit". I would have to agree; if my daughter had been introduced to Spanish through
Real Homeschool Spanish
she would not have been so overwhelmed by the traditional text and the very traditional teacher of the class I enrolled her in (and subsequently had to let her drop). She is definitely a right brained student and the conversational style with visual aides is well suited to her learning modality. Hopefully someone can learn through my experience.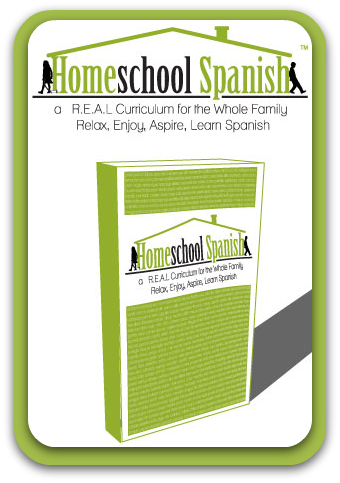 Real Homeschool Spanish
can be purchased directly from the author
at their website
and downloaded instantly to your computer or ordered in a printed and cd audio format. I encourage you to read their material on the website as they do a much better job of explaining their goals and methods than I do. You may also download and try a few samples of their lessons and workbooks to see if it is a good fit for your family.
You may also want to read the official
TOS review
and
check out several of the other product reviewers
as many of them will have younger children or students who are more enthusiastic about learning to speak a new language.
Here is a link to a crew mate's post that I thought was especially informative.
Jessica writes at Orange Marmalade Mam.
I received a free copy of the download version of this product to try in order to write my opinion. The opinions expressed here are my own. I was not paid by The Old Schoolhouse not did I receive any other compensation for this review.