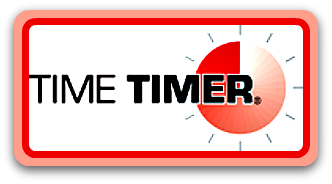 The name is a little redundant. When I first heard I was going to receive a Time Timer, I was "ok happy" - no cartwheels. It was a timer after all, I have tons of timers. I like timers; I've used them for years. I didn't give it another thought.
Then the box came. And I opened it, unwrapping the little clock with no hands. Mmmm... how will this work?
"What've we got?," she said. "Oh, cool!" and that was the last I saw of the Time Timer. Well, I saw it, I just didn't get to use it.
My daughter
set it on the computer
to tell her how much time she was allotting for Facebook.
She put it
on the piano
to be sure she practiced for the required number of minutes.
She set it
on the desk
so she'd know to work 45 minutes and then take a break.
She put it out for me, so I'd know when I had to get off the computer so she could work on her project.
This is my teen who can't concentrate. Who sometimes interrupts herself 20 times during math.
Who has no internal sense of the passage of time. Who goes to practice 30 minutes and comes back in 10 thinking she was done. Who would work for 20 minutes in algebra and think she'd been there for
hours
.
Suddenly she was asking for the Timer, planning her own work and setting the Timer -
all on her own initiative.
She
enjoys
using the Time Timer!
Time Timer
really should have been name
Time Tamer
because it surely has
tamed the time monster here
. The effect on concentration has been amazing! Just setting the timer helps her stay focused and working steadily, even on dreaded tasks.
Exactly how does it work such magic? I'm not sure I care! However...
The visual stimulus of a disappearing red arc section is the key.
Unlike ticking timers, Time Timer uses a constantly shrinking red zone to let you know with a glance how much time is remaining - you "see and feel the passage of time". As the red section gets smaller, so does your remaining time.
I can't say enough about how
perfect this is for a visual learner.
There is no need to even
think
about how much time you have left -- no processing required. Not only is it a good time management took, Time Timer trains the internal clock. As the student uses the Timer, they become more practiced at accurately sensing the passage of time.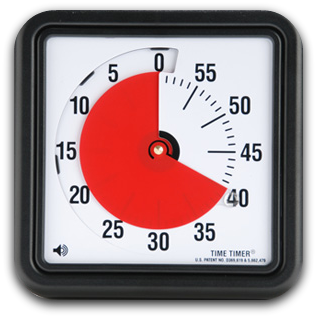 this is the actual size of the 3" version
What makes Time Timer superior to other timers?
I have wondered if the
visual cue is what made such a difference;
I have to conclude that it certainly must be. There is no other explanation. I've often set timers to help students focus and stay on task. These other timers helped, but they didn't produce the sharp focus I'm seeing now is definitely sharper.
This timer runs silently
y. There is no tick-tick-tick-tick. Ticking is a huge stresser for some people. Even the
end buzzer is nice and quiet
. I have a timer that has an obnoxious, high pitched alarm. The sweet little bing at the end of the period is just right and doesn't scare the daylights out of you when it goes off.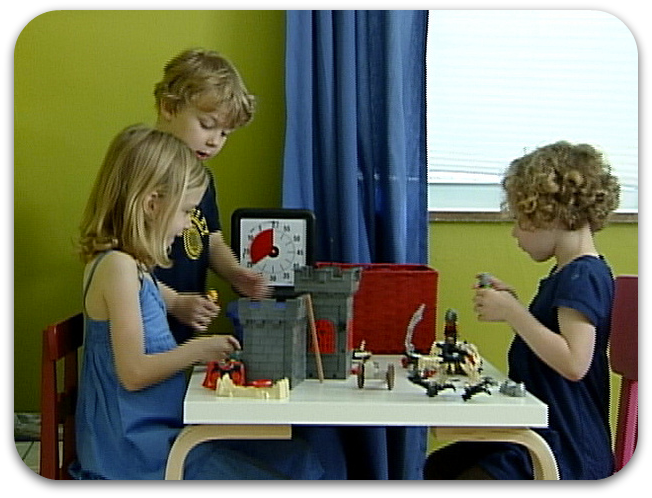 Even
preschoolers can read the Time Timer
. There is no need to KNOW anything about numbers, clocks or time to effectively read the Time Timer. In fact, this was the inspiration for the invention of Time Timer over 20 years ago!
Who would use Time Timer? How would they use it?
I highly recommend Time Timer for "time on task" monitoring in school. However, Time Timer should not be limited to the school room. Whenever and where ever you need to monitor and manage the passage of time.
All of the Timers will time 60 minutes
.
I'm planning to use mine to
time meetings with clients
and
keep my women's ministry board meetings
on track.
That disappearing red zone is a strong non-verbal reminder to stay focused and on tasks even for adults!
Wouldn't this be a great item to use in a public speakng class?
There are so many potential uses I'll just
link you here
to read the website and think up your own ideas!
Monitor TV time -- computer use -- time meetings -- you name it! I enjoyed the ideas to save you time and money, on the creator's blog -
click here.
not my daughter, but you get the idea
there is a wrist watch version!
Piano practice to pool!
Timers are common items, but Time Timer has give the timer concept a new twist and brought it up to the modern age.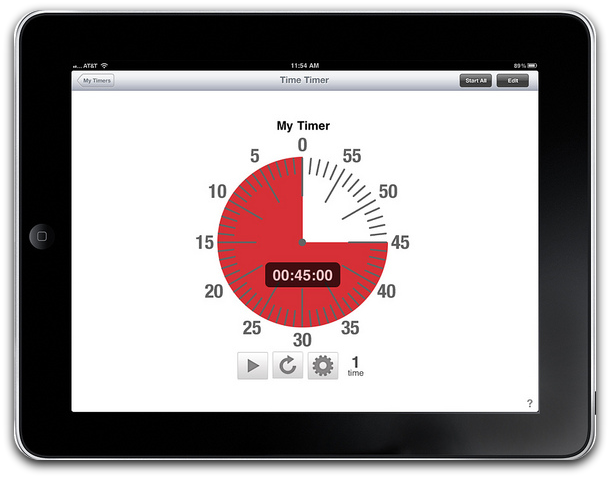 There is Time Timer for iPad, iPhone and iTouch!
The iPod, iTouch etc versions are available from the App Store for $1.99 click here to see!
There is another version that
pins to your computer screen!
This version has more operational options. This version - which appears to be the most versatile - sells for $24.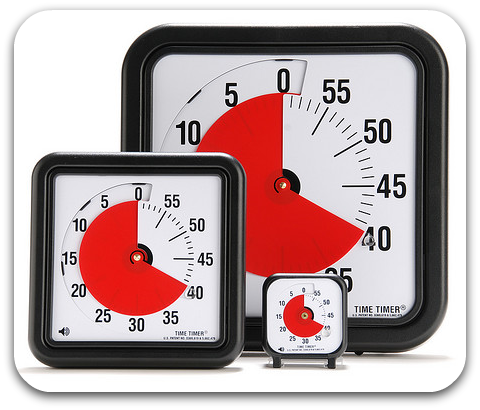 I was given the
3" Timer
to review, but there are also
8" and 12" versions
well suited to use in a whole room.
The 'clock style' timers are priced from $30 to $40 dollars for the 3" to 12" versions.
The 3" version is especially portable.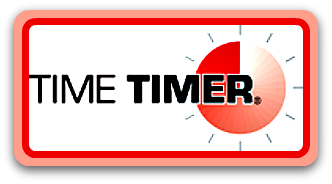 Click here for the company website.
Regarding the price: I can hear you thinking that the price is a little high for a timer, by comparison. I thought about this; however, the construction is especially sturdy and we've not had any problems at all with ours (other than needing a new AA battery). Given the other unique features of this product, I'm willing to pay that price.
The price for the App version is outstanding! I'm definitely getting one for my daughter's iPod (available through iTunes).
Please!!! Check out other reviews by TOS Crew members at the main
Crew blog here
and
here on the Linky list
.
I received this product in exchange for publishing an honest review. Receipt of a product does not guarantee a positive review and I received no other compensation. For more information please see my disclosure page.