A Product From Mammoth Math
Do you have an math student who says, "When am I ever going to use this!"
That is a constant, woeful refrain from my math student.
When will I ever need to do linear equations?
What could I possibly need this quadratic formula for?
What possible use could there be for calculus? for statistics?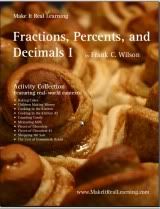 If your student wonders what they will ever use math for in "real life",
Make It Real Learning can answer their questions!
This supplemental math series is designed to get students working practical problems and learn how math works in "real life"!
Make It Real Learning
is written to supplement different levels of curriculum
from elementary school through high school math subjects.
These workbooks are distributed through
Mammoth Math.
Here is a list of text titles, with links to the summaries on the Mammoth Math website.
Make It Real Learning

States by the Numbers series (grades 3-6)
Arithmetic I (grades 3-6)
Fractions, Percents, and Decimals I (grades 4-8)
Fractions, Percents, and Decimals II (grades 4-8)
Sets, Probability, and Statistics I (grades 6-10)
Linear Functions I (grades 9, 11)
Linear Functions II (grade 11)
Quadratic Functions I (grades 9, 11)
Exponential & Logarithmic Functions I (grades 11-12)
Periodic & Piecewise Functions I (grades 11-12)
Polynomial, Power, Logistic & Rational Functions I (grades 11-12)
Calculus I (grade 12)
These are serious math problems and will represent a challenge to students using any curriculum - in a good way. These problems involved multiple steps and the application of a variety of skills. When choosing a collection, it is important to select problems that use math operations your student has actually learned and practiced in their main text.
My first impression was that these problems reminded me of the projects my college sons were given in their "math labs". In the local community college, students take a lab with each course that emphasizes practical applications of the math they learn in their class session.
Make It Real Learning
books will allow you to create a "math lab" experience for your homeschool students.
In our "math lab", my student used linear algebra to determine the best cell phone plan. How practical is that? She used systems of equations to develop a recipe with specific carbohydrate composition. She also reviewed probability using candy and organized soccer teams using permutations.
Students in upper algebra and calculus will finally get to see how those formulas apply to real like situations. A quick review of problem lists indicates students can practice with compounded interest, investing and developing a formula for a set of scatter plots.
Regardless of the curriculum you are using for math, these problem sets will help your student learn to think critically and apply the math they have learned in practical ways. Each 46 page collection includes 10 activities. A good pacing guide is to do one activity every week, but you could certainly stretch that out as you need or use a faster pace if desired. Not that these are designed to work with a standard curriculum -- not stand alone.
Fully worked solutions are included on pages identical to the student pages -- very nice for the teacher and also for the times you need the student to check their own work.
Here are some suggestions for creating a math lab for your student. Simply choose one day a week for "lab" and print off the problem pages to be worked that day. Because the problems have multiple steps, you can also print a problem and have the student work it over several days in a week and then discuss it with him on Friday. Students should be able to work independently and bring you the work for correction. I found it helpful to work with my student on the first couple of sets to help her develop a pattern of careful reading and thinking.
These books would also be great for a co-op if you choose a level at or slightly below the level the students are working. Some of the problems require specific math content knowledge; these are clearly indicated by the problem title and the description in the table of contents. This type of practical problem solving lends itself very well to group work -- letting the students approach and solve a problem cooperatively.
Make It Real Learning
books are available from Mammoth Math.
Order from the website here
.
You can also download sample activities to evaluate before you purchase.
Individual workbooks may be purchased as PDF downloads for $4.99 each.
You can also purchase the entire 11 activity collection bundle for $39.99.
Individual State collections in the elementary number series are priced at $2.99.
Purchasing the PDF allows a family to use the pages for all of the children in their family. A single teacher, teaching one class may copy the pages for all of the students in that class, but should not share the documents with other teachers. Since these materials are so reasonably priced I encourage you to adhere closely to these policies - even regarding the free samples.
I received a free PDF version of these materials as part of the TOS Review Crew in exchange for publishing an honest review. No other compensation was given and I am not an affiliate of this program. Receipt of the product did not guarantee a positive review.
You may check out the opinions and experiences of other
TOS Crewmates here
- and at the main
review page
. Some members reviewed the
elementary full curriculum
. If you have younger children I encourage you to see what they have to say about Mammoth Math. Two years ago I wrote a review of the entire program. You may find it
here
and
here
.